Elliott Wave Analysis Theory has grown from strength to strength in recent years. After having correctly predicted a number of major moves in markets ranging from stocks markets like the DOW Jones INdustrial Average to gold, it has garnered renewed interest. Among the various sites that follow and analyze this theory and what it is telling us all about the future directions and targets of various markets is the Elliott Wave Stock Market. While it is not as large and perhaps not as well-known or subscribed to as Elliott Wave International, it does have a following and provides a useful service of analysis on several key international stock markets.
About Elliott Wave Stock Market Review
Elliott Wave Stock Market the site advertises itself as the brainchild and ongoing analysis of one Lara Iriarte. In fact the site's sub title is Technical Analysis by Lara Iriarte CMT. Since the entire premise of this site is that it is the expertise and analysis provided by Lara, it makes sense to start with who she is and what credentials and experience she brings to the table.
Lara Iriarte, Chartered Market Technician
She starts with her credential as a Chartered Market Technician. If this is not interesting or unique enough, add to it that she is a Kiwi, a person who hails from and lives in New Zealand. Since 2008, Lara has utilized the Elliott Wave Theory in order to analyze as many as five different market per day. Her first creation was Elliott Wave Forex back in 2009, the site she set up to offer daily Forex analysis of both GBP/USD and EUR/USD for her followers. The next year, she started this Elliott Wave Stock Market site and service. Among other markets, she follows and analyzes through the lens of Elliott Wave Theory the S&P 500 cash index for her members. Her educational background is in science, which teaches her to be focused on the evidence and to think and analyze logically. Lara pairs classical technical analysis with her love and practice of Elliott Wave Theory in order to compile her daily S&P 500 analysis and commentary on the site. She claims that her followers include institutional investors, fund managers, and professional traders as well as regular individual investors.  Lara prides herself on her mission to teach her members on a day by day basis the proper and effective methods for applying the Elliott Wave Theory principles to any market of their choice in the investing world.
Elliott Wave Stock Market Subscription Service
Naturally this background and experience that Lara provides does not come for free. She does offer a very reasonable sample trial period to give you a chance to study her analysis and commentary personally to see if it is really for you and your trading aspirations and style. The trial is an only $1 cost for a one week trial period. At the end of this first week trial, if you do not cancel, it automatically renews into a monthly $40 per month subscription for the site, with commentary posted fully five trading times per week.
If you become a true believer and find that you do not want to do without Lara's daily and weekly financial markets guidance, she offers you a better deal still. By taking a six month subscription service commitment, you only pay for five months and then receive the sixth month free. This package costs $200 up front and in advance.
Elliott Wave Stock Market Analysis of Markets
Elliott Wave Stock Market provides analyses of three different major stock markets that are global in nature and trading interest. These are the S&P 500, the Nasdaq, and the London principal stock market the FTSE 100 stock exchange.
S&P 500
Lara Iriarte provides and promises to continue to deliver both daily analysis and commentary and weekly updates on her S&P 500 Elliott Wave Theory observations.
Nasdaq
Lara's observation and commentary on the S&P 500 have been thorough and consistent in looking back several months at her posts. Unfortunately, we can not honestly say the same thing about her Nasdaq work with Elliott Wave Theory. Before her January 25th post, she had not put up anything more recently than November 13th, leaving a more than two month gaping hole in the Elliott Wave Theory daily or even weekly analysis updates. It could be that there was nothing significant enough occurring in the Nasdaq stock market charts pertaining to Elliott Wave to bother updating, but this is hard to believe given how badly, fast, and far the index has fallen in December and January. It could simply be the fact that Lara promises to deliver daily and weekly updates only on the S&P 500, and that the Nasdaq updates are more of a part time hobby for her when and where it suits her to update them.
FTSE London Weekly Analysis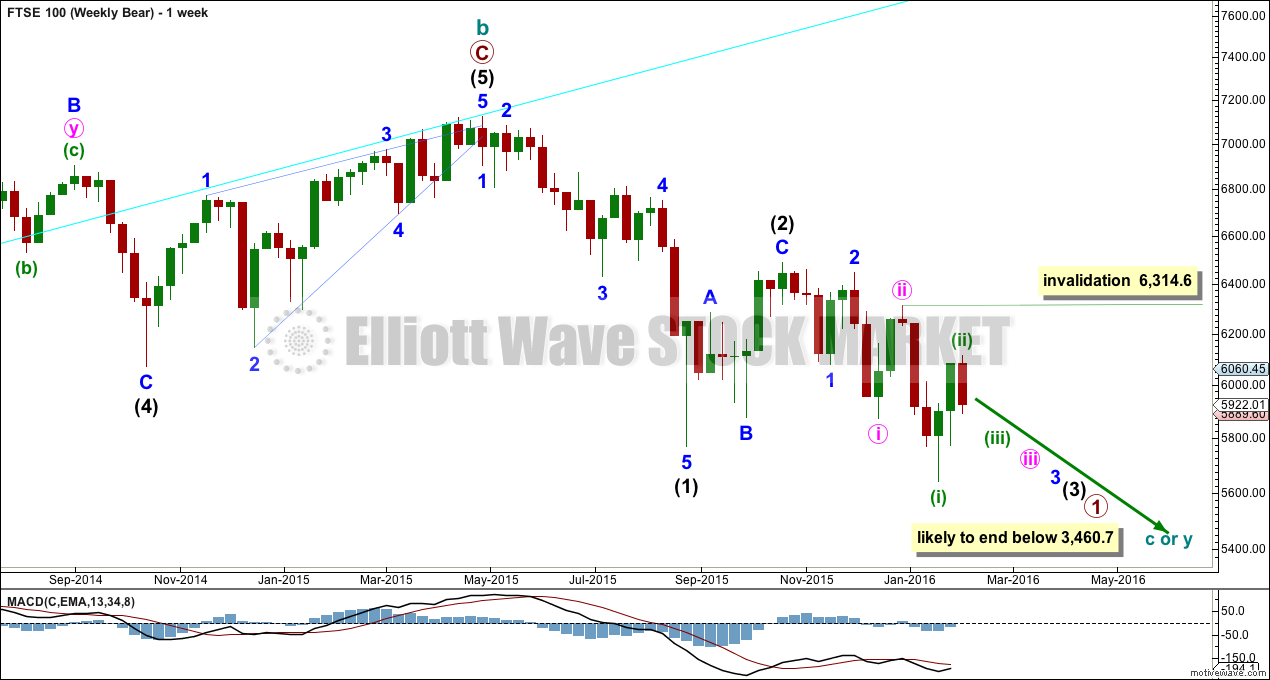 Lara Iriarte's site and staff appear to do a convincingly better job on keeping up with their daily and weekly analysis and commentary of the London based FTSE 100 than they do with the U.S. based Nasdaq. In January and February of 2016 so far, she has a post up from every one week to ten days. This level of Elliott Wave Theory update is obviously far more useful and practical for those subscribers who count on her commentary and charts to help them with their long and short trading of these major worldwide indices.
Speaking of the London FTSE 100, Lara has a definite direction and prediction for the British stock market. She states that the FTSE has recently completed a correction higher. She believes that the downward trend in the index will resume shortly and has a short term target on the FTSE at 5,023 with a mid term target level of 4,296. If her Elliott Wave Analysis is correct, then that represents an eye-watering drop of from around 5,900 to 4,296, or  down 27%. To make this more shocking, she states that these downside targets presented by Elliott Waves might be not low enough. Time will tell if she and her interpretation of Elliott Wave Theory are right.
Elliott Wave Stock Market Education Section
Besides the site's interesting analysis and commentary on the three major international stock market indices that it follows, Elliott Wave Stock Market also provides a useful educational section of the site. This starts with a free introductory video on the basis and history of Elliott Wave entitled, "History`s Hidden Engine". The entertaining movie's goal is to explain to viewers the critical why for the Elliott Wave Theory and Principle. After this, the educational page offers 6 different short videos explaining key components of the Elliott Wave Theory, covering such topics as "Elliott Wave Motive Structures," "Elliott Wave Three's," and "Elliott Wave Triangles."
For those members who already come prepared with some sort of foundational background in the theory, the site's education offers a more in depth and advanced series. These start with a 10 lesson text tutorial from Elliott Wave International. They are also recommending and promoting a series of several foundational manuals on the whole Elliott Wave Theory and Principles, which they are only selling by redirecting users to the affiliate site Elliott Wave International with such volumes as the "Elliott Wave Principle" by Frost and Prechter, "How The Wave Principle Can Improve Your Trading"  a free e book from Elliott Wave International specifically for traders, and the "Ultimate Technical Analysis Handbook" by Jeffrey Kennedy from EWI. Once again, Elliott Wave Stock Market is not selling any books of either their own making or anyone else's, only providing links to affiliate company sites that do carry such foundational volumes on the science of Elliott Wave Theory and Principle.